News from South West England
Find out how we are finding homes for children in South West England
Stu Dendy and Dave Kingswood share updates, encouragements and prayer points related to Home for Good's work across the South-West 
---
Since our last update in September, we have had lots of opportunities to share the vision of Home for Good in a variety of churches and networks across the South West. We would like to share some of those updates and some things to look forward to, as Christmas draws ever closer!
---
What have we been up to recently?
A great encouragement was when Dave met a new church leader who shared with him about having a family who foster in his church. He had not come across Home for Good and said that the family had never mentioned us either. It was wonderful to make that connection and open-up the conversation. Dave will be joining with one of the church social events soon to spend time with the congregation and see where Home for Good can help!
Home for Good is excited to have another new Champion join us in Bath and North East Somerset, in the Keynsham area. As we continue to share the need to find homes for children who need them, we are keen to have as many volunteers and Champions as possible, spreading the word throughout the South West within church communities. Speaking of Champions, Dave and two of our Champions attended the Bath Christian Action Networks Transformation Conference that sought to look at how churches could collaborate and bring leaders together. It was a great night of new connections and working out how we can work together more closely. Stu also recently met up with several of the Bristol Champions in Cotham. As always, Hattie provided some amazing cakes, which helped the conversations along. One of our new Champions, Charlotte , joined us and we discussed a new support group for the Fishponds area!
We had a network meeting with a number of BANES carers in a local hall and Dave shared about the work of Home for Good and invited them to pick up free tickets to the local Polar Express event and promote the future foster carers meal at Life Church. We continue to enjoy our relationships with the Bristol City Fostering Team and the team in Bath and Norh East Somerset as we work together to find a home for every child who needs one, and Stu and Dave met with these teams recently to discuss our work together. We were so pleased to learn that out of the current 10 people going through assessment within BANES, two were referrals from Home for Good. We continue to pray for those households involved in this process.
Stu has had several positive connections with a number of leaders in Torbay and is hopeful to develop these partnerships – thank you so much for your support. He spoke at Brixham Methodist, which generated interest and future conversations for support for families in the locality.
The Midsomer Norton support group had its first meeting, and it was wonderful for some new foster carers and adopters to meet up for the first time to share and pray together. There has been some interest from men who foster or adopt, to meet up and share some time together. We have had our first time together, meeting up at the Globe in Bath, which was encouraging for all of us.
As usual, the team have been busy, out and about attending events and building relationships:
Together for Bristol had an annual event at the Easton Salvation Army, an encouraging time of fellowship, with various churches represented and some good interest in our stand.
In October, City Church (Cotham) kindly invited Stu to come and participate in a Q&A. Then in November, one of our super Champions, Charlotte M attended City Church (Bradley Stoke) and Stu went to City Church (Fishponds), which included some sharing of about Home for Good and marking our new partnership with City Church as a Home for Good Church. We are so grateful to Simon Allen and the leadership team for journeying with us. Thank you City Church!
On fireworks night (or should that be day), Stu was with Life Church in Fishponds. We have a new Champion within the church, and we're excited that we shall soon launch a Support Group in partnership with the church there. Both Charlotte and Stu were interviewed by Gareth Matthews, who is the lead minister and the church, but also a foster carer with his wife, Marianne. Stu shared from Isaiah 54, sharing God's heart for His Church to make room for others in our lives, our churches, and our homes.
Both Dave and Stu have been busy doing some videoing… Dave has helped the BANES fostering team to produce some videos, which are hoped to provide a number of bitesize clips, with information for people to use for faith integrated fostering knowledge. Stu did four short films with The Fuelcast, highlighting the need for more homes for children and our Bible study, Make Room.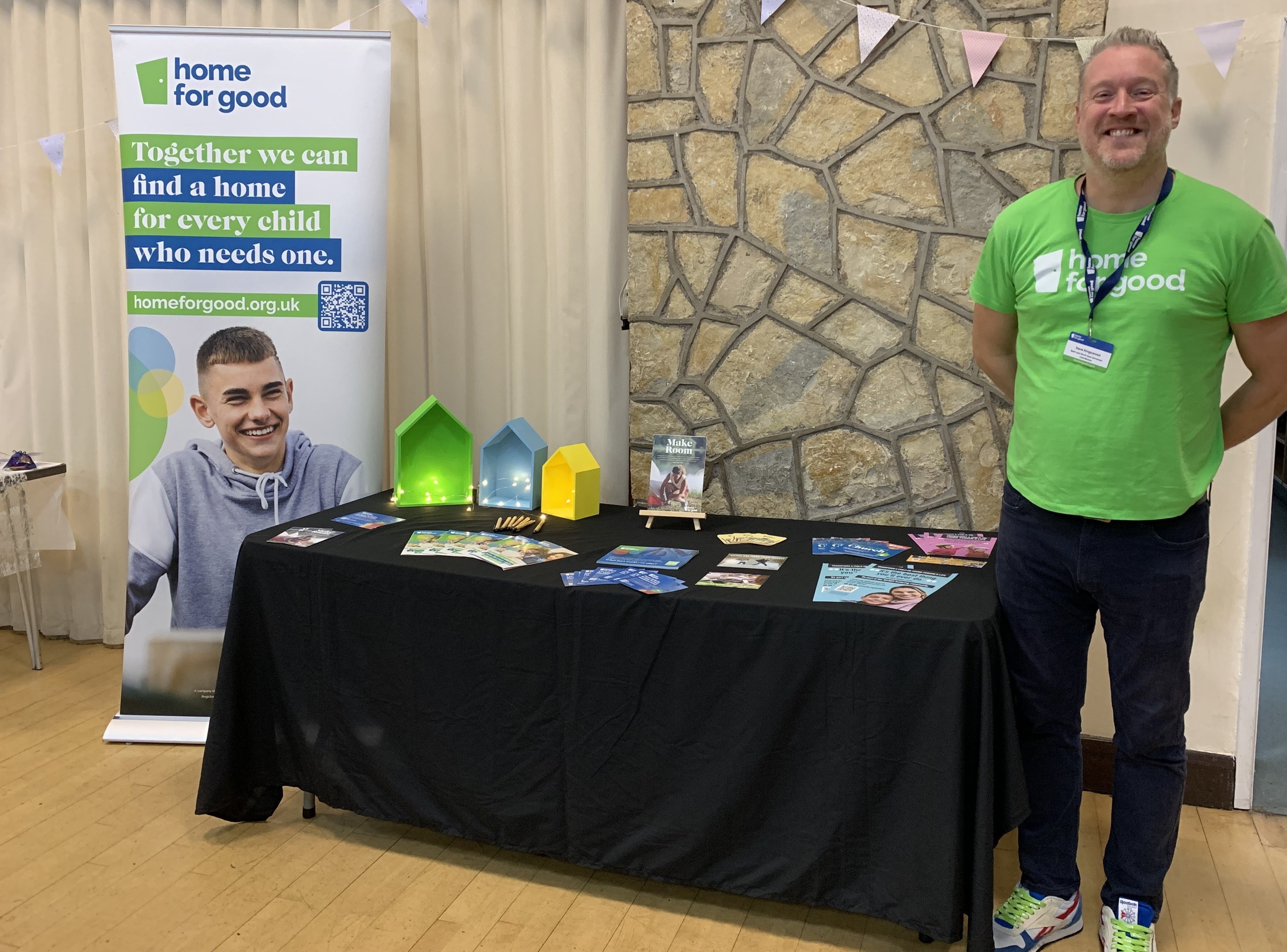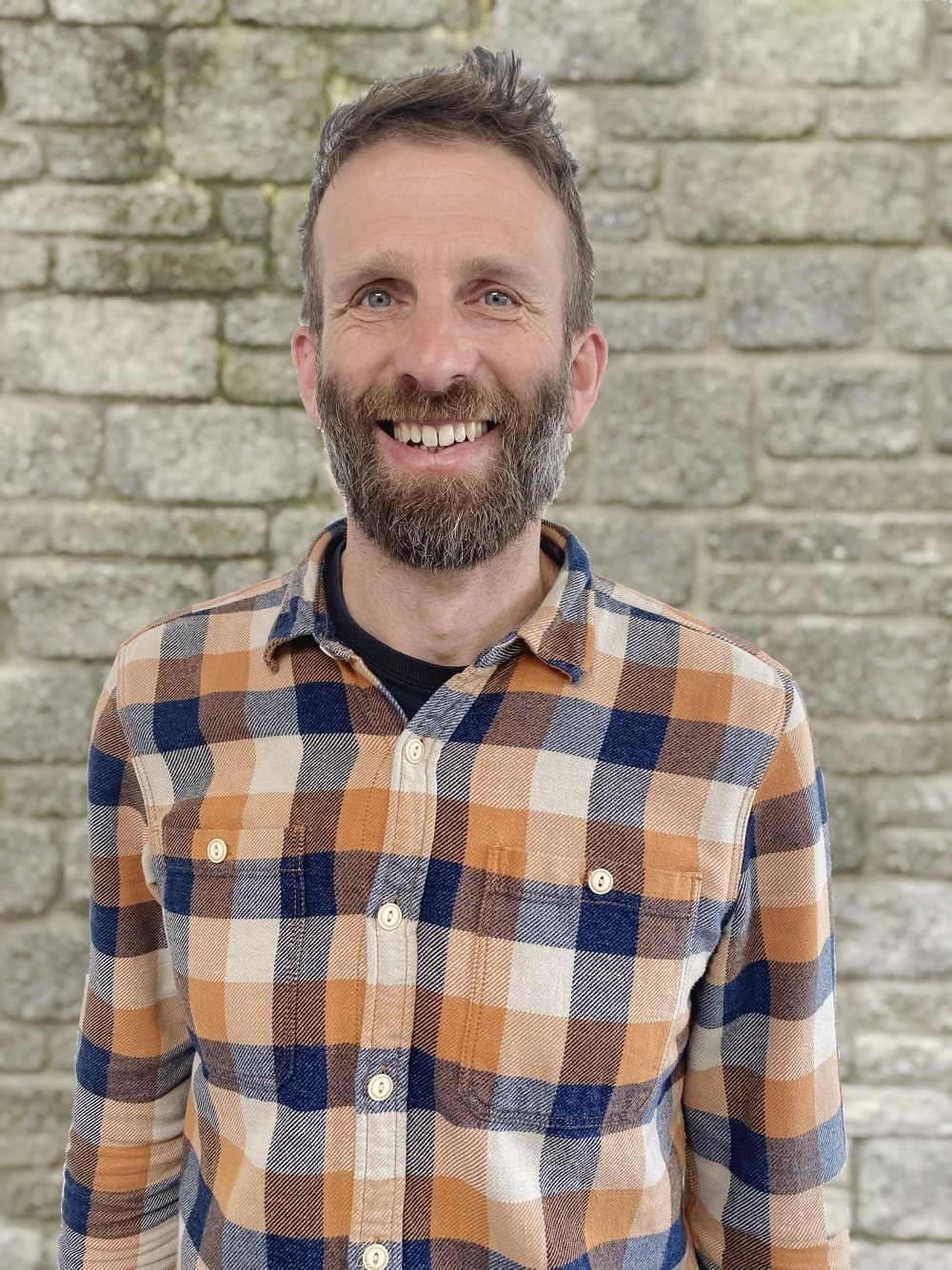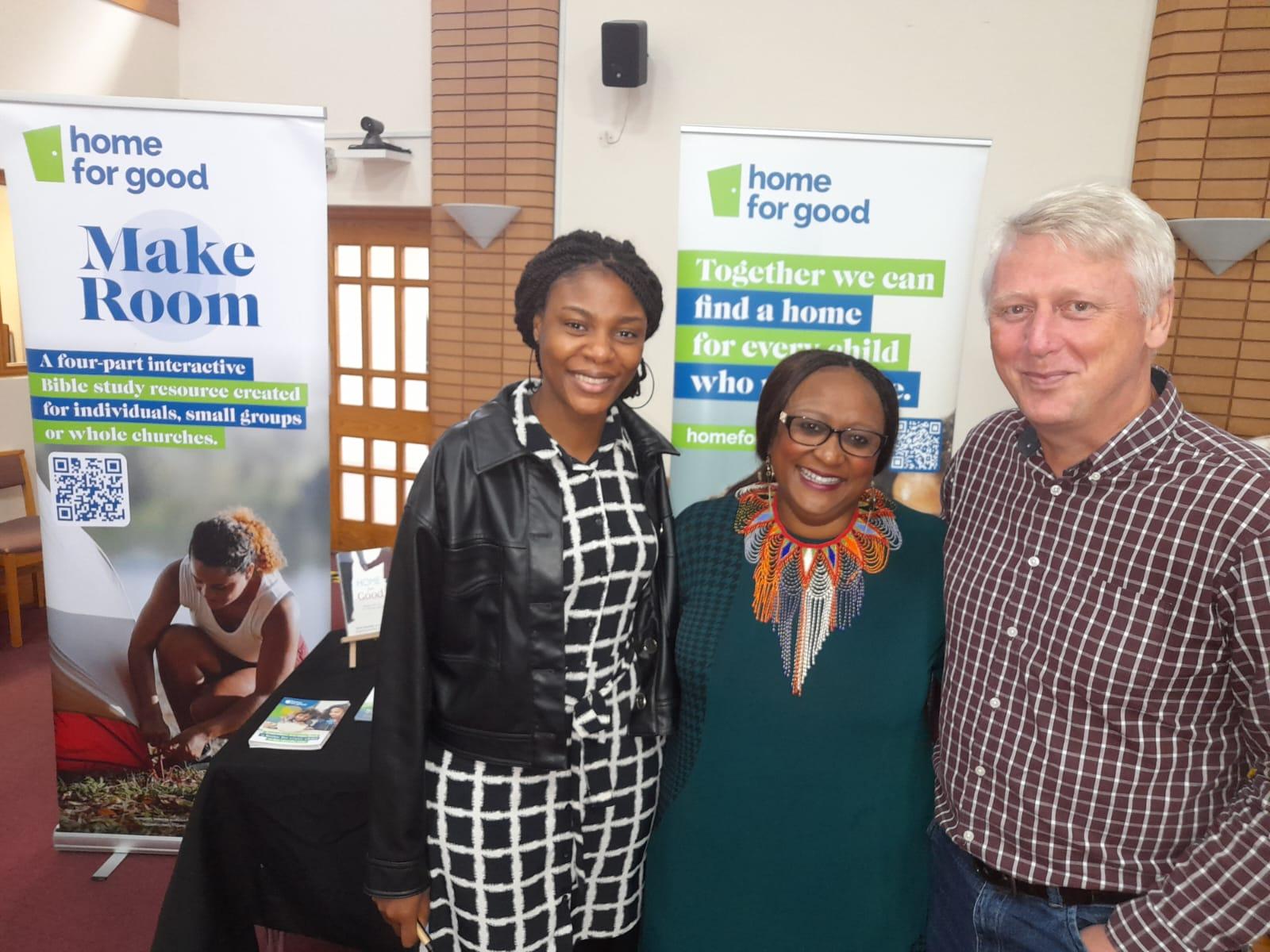 ---
As Christmas is almost here, we see some exciting opportunities….
We are having our meal at Life Church, Bath, which is now a yearly occurrence. We already have 40 people booked in which is exciting and we can't wait to share good food and time with people from across the care network in BANES. Dave will also be sharing at St Stephens Church in Bath very soon and has a date in the diary in the new year to share with Insight Ministries. 
We have a number of Christmas Tree Festivals we are involved in, which is always fun. We shall be at St Marys, Redcliffe, St James, Trowbridge and the National Trust in Lacock. If you are nearby, why not see how we created our display for this year and the many other wonderful exhibits.
On 1 December, Stu will be joining Torbay United for their Christmas service at the Riviera International Centre in Torquay. This is an amazing Festive Christmas Celebration, sharing the good news of Jesus through evangelist, J John and sung worship led by Lucy Grimble. Various churches are united together to present this event and Home for Good will be very present on the night, ready to share the promise of Hope that we can each bring to children who need a home and family.
Finally… We're delighted to tell you that our Christmas resource pack – A promise of hope - is ready. We'd love to offer it to you as a gift.
---
A promise of hope
Are we allowed to start talking about Christmas yet?
Maybe you're one of those people who can't bear to think about carols and Christmas trees before the beginning of December – at least. Or maybe you've had ideas for your church's Christmas activities buzzing around your head since July.
Here at Home for Good, we'd place ourselves somewhere in the middle; for the past few months, we've been dreaming up and creating a brand new, all-age Christmas resource for this year.
We're delighted to tell you that our Christmas resources are ready – and we'd love to offer them to you as a gift.
Receive our Christmas resources
A promise of hope includes a brand new video, some inspiration for a talk or sermon, congregational prayers and activities for children and youth groups. We would love to invite you to use some or all of the package this Christmas in your carol service, Christmas morning service or at another occasion in the lead-up to Christmas. You can sign up now to view and download them using our short and simple form.
We hope that the video, prayers, ideas and activities included will be a blessing, offering a new way for your church family to engage with the Christmas story and be inspired to respond – to bring a thrill, a glimmer, a promise of hope to someone who needs it.
The resource pack is totally free; a gift from us to your church community. But we can only continue inspiring and equipping churches with the support of amazing people like you. Could you consider 'paying it forward' and taking a special collection this Christmas so that more churches can receive our resources for free and help to find more safe, stable and loving homes for children who need them? If you'd like to chat more about this, you can chat to our fundraising team directly about a Christmas offering at [email protected].
Stu will be utilising some of these materials at some Christmas Services he is pleased to be involved in at St Marys Redcliffe, Bristol, on 9 December and at The Abbey in Malmesbury, Wilts, on 10 December.

---
What can I be praying for?
We would love you to stand with us in prayer as we continue to work to find a home for every child who needs one in the South West.
Pray for great responses and enquiries as a result of the speaking engagements/events this winter and for more opportunities for our South West Team to share.
Pray that people will continue to sign up to the Free Christmas Resources 2023
Pray for our growing support group network across the South West and for more volunteers to come forward to lead groups, especially in north Devon and Plymouth
Please pray for prospective foster carers, adopters and supported lodgings hosts currently in assessment. 
Check out our prayer resource, Let's pray, for additional thoughts, inspiration and points to guide your prayers.

Are there any events happening soon that I can attend?
Head over to our South West England page to find out what is happening in the area and find all the local support groups.
How do I get in touch with a member of the Home for Good team in South West England?
Stu Dendy heads up Home for Good's work in South West England and he would love to hear from you! You can contact him through the link below.
Our local co-ordinators operate in Torbay (Maren) and Bath and North East Somerset (Dave). Send them an email though the links below.

You might also be interested in
I would like to find out what is
going on in my area
Join our mailing list for the latest Home for Good news and ways to get involved.
Together we can find a home for every child who needs one.
£25 per month could help us create and collate inspiring articles and blogs that encourage and inform the families and communities who care for vulnerable children