News from Wales
Find out how we are finding homes for children in Wales
Neil Davies shares updates, encouragements and prayer points related to Home for Good's work across Wales.
---
A promise of hope
Are we allowed to start talking about Christmas yet?
Maybe you're one of those people who can't bear to think about carols and Christmas trees before the beginning of December – at least. Or maybe you've had ideas for your church's Christmas activities buzzing around your head since July.
Here at Home for Good, we'd place ourselves somewhere in the middle; for the past few months, we've been dreaming up and creating a brand new, all-age Christmas resource for this year.
We're delighted to tell you that our Christmas resources are ready – and we'd love to offer them to you as a gift.
Receive our Christmas resources
A promise of hope includes a brand new video, some inspiration for a talk or sermon, congregational prayers and activities for children and youth groups. We would love to invite you to use some or all of the package this Christmas in your carol service, Christmas morning service or at another occasion in the lead-up to Christmas. You can sign up now to view and download them using our short and simple form.
We hope that the video, prayers, ideas and activities included will be a blessing, offering a new way for your church family to engage with the Christmas story and be inspired to respond – to bring a thrill, a glimmer, a promise of hope to someone who needs it.
The resource pack is totally free; a gift from us to your church community. But we can only continue inspiring and equipping churches with the support of amazing people like you. Could you consider 'paying it forward' and taking a special collection this Christmas so that more churches can receive our resources for free and help to find more safe, stable and loving homes for children who need them? If you'd like to chat more about this, you can chat to our fundraising team directly about a Christmas offering at [email protected].
---
Climb with me
In September, I completed my 19th and final trig-point challenge for our 'Walk With Me' campaign, by reaching the top of Pen Y Fan, South Britain's highest mountain. Across the UK, many children who are placed into care are moved away from their home and all that is familiar to them. The shortage of suitable carers means that many children experience multiple moves, often far away from their local area. Research in England showed that, on average, each move is 18 miles away. The picture is similar in Wales, so I chose 19 hills for my own challenge. Home for Good works with churches across Wales to find and sustain more local, family homes for children who need them. We want to inspire more people to step forward and play their part.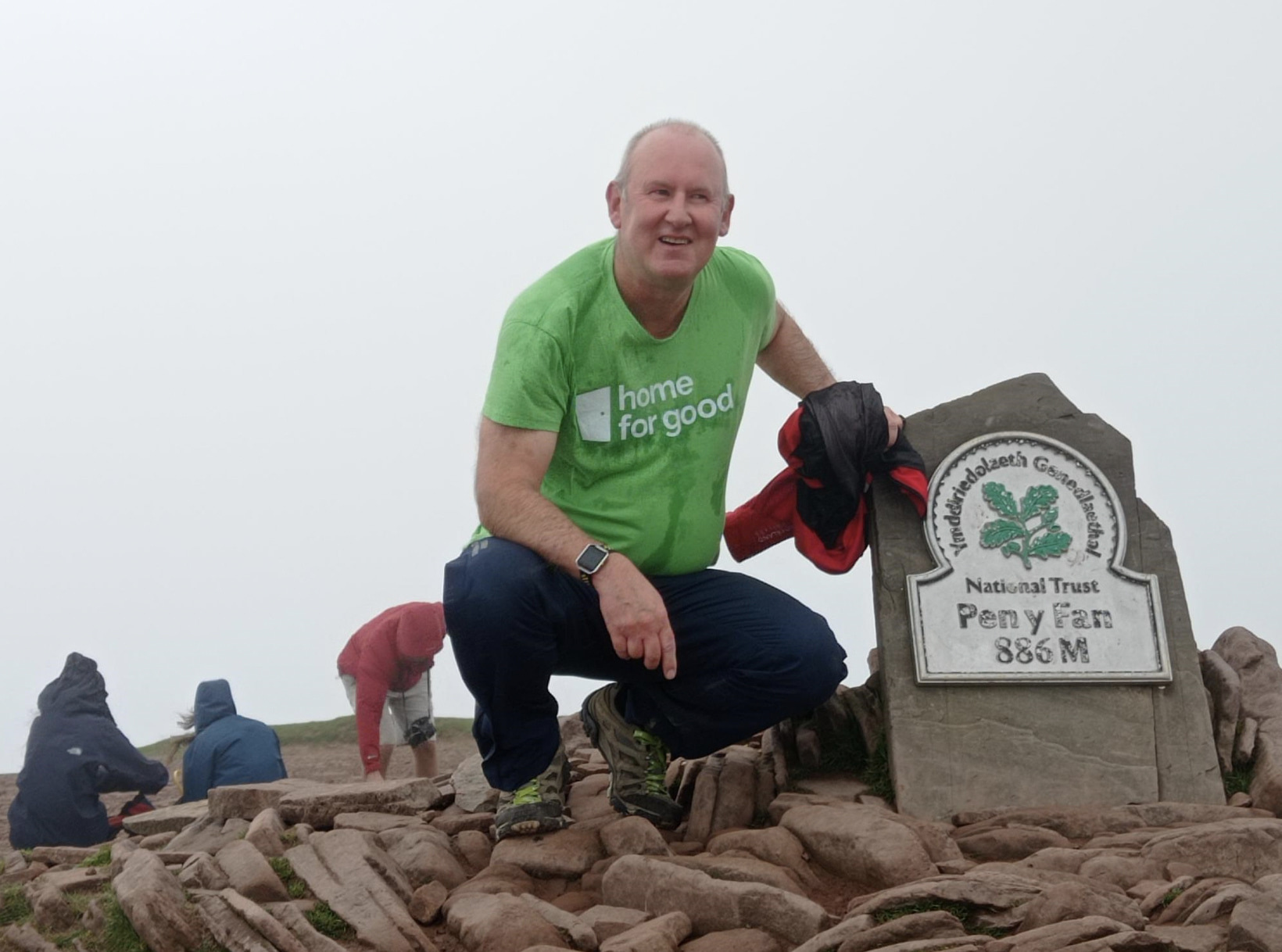 ---
Partnering to find homes
Home for Good has the privilege of working with a number of fostering and adoption partners in Wales as we seek to find homes for children and young people. I'd love to connect with you if you live in any of the areas covered by our agreements with any of the following:
Swansea & Neath Port Talbot Fostering
Western Bay Adoption Service (Bridgend area)
St David's Adoption Services, with whom we are focusing on nine Local Authorities in the South West and South East. In the South West - Carmarthenshire, Pembrokeshire, Ceredigion and Powys. In the South East - Newport, Monmouthshire, Blaenau Gwent, Torfaen & Caerphilly County.
---
Recent outs and abouts
In October, I had the privilege of both attending and being interviewed at Teulu. Teulu is the Welsh word for 'family'. This is a two-day gathering at Coleg Y Bala, Gwynedd for families who have fostered and/or adopted where we had some great teaching and times of discussion along with just being able to hang out with each other. It's all through the medium of Welsh, which I cannot speak, but there was great live translation so I didn't feel I missed out at all. I cannot recommend it enough. If you would like further details please get in touch with me ([email protected]) – I would be happy to share more information.
In October, I was delighted to speak at King's Church, Swansea and at Y Groesfaen, St David's. Around 50 people in all were able to hear and connect with the message of Home for Good and some great conversations followed in each meeting.
Over the past two months, I've met with a further 14 church leaders, all of whom are very keen to develop a relationship with Home for Good. This is a huge encouragement as we seek to grow our reach and impact across Wales. If you're a church leader and would like to talk, please get in touch as I'd love to connect. Likewise if you're in a church and you feel that connecting me with your leader would be of benefit, please link us up – I'd love that!
---
Information Sessions
I've loved taking part in two of Home for Good's recent Online Information Sessions for people exploring fostering, adoption and supported lodgings. These are great events which I would highly recommend. Each session lasts for 75 minutes and they provide a great introduction to what's involved in opening up your homes for children and young people. We hold these every two to three weeks. Click here for further details.
---
What's coming up?
I am currently in the process of setting up a Wales Advisory Group, the purpose of which is to assist me in continuing to shape the work of Home for Good in Wales. I am hoping to have this set up by January. I would value your prayers that the right people would be approached to sit on this important group.
I continue to attend the New Wine Cymru Regional Leaders meetings which I have found to be not only a great place to meet church leaders but also have had great times of encouragement as we have worshipped together.
I have meetings with a number of church leaders booked in for the next two months. We also have Vision Events organised for both January & February with more to follow during the year. So on 27 January we are at Mount Pleasant Church, Maesycwmmer in Caerphilly Borough then on 28 February we will be at Warehouse Church, Newport. These will both be advertised shortly on our website and social media channels. We'd love your company on these occasions.
I have a few church speaking engagements booked in for the coming months, but I'd love some more for the new year. If you'd like me to come and speak at your church then I'd be delighted.
---
What can I be praying for?
We would love you to stand with us in prayer as we continue to work to find a home for every child who needs one in Wales.
Pray for good fruit to come from the upcoming speaking engagements and that more requests for speaking engagements would come.
Continue to pray that the resources needed would become available for the work in North Wales to flourish.
Pray that the support groups currently in place would flourish as more people are supported so that their families flourish.
Pray that the Holy Spirit would speak to people, whether or not they hear a Home for Good presentation, so they would be stirred to investigate, apply, be approved and begin to foster, adopt or offer supported lodgings.
Check out our prayer resource, Let's pray, for additional thoughts, inspiration and points to guide your prayers.
Are there any events happening soon that I can attend?
Head over to our Wales page to find out what is happening in the area and find all the local support groups.
How do I get in touch with a member of the Home for Good team in Wales?
Neil Davies heads up Home for Good's work in Wales and he would love to hear from you! You can contact him through the button below.
You might also be interested in
I would like to find out what is
going on in my area
Join our mailing list for the latest Home for Good news and ways to get involved.
Together we can find a home for every child who needs one.
£25 per month could help us create and collate inspiring articles and blogs that encourage and inform the families and communities who care for vulnerable children