Home for Good publishes new report with Safe Families
Home for Good and Safe Families release a joint report; More than Sundays
Today, Home for Good and Safe Families release a joint report; More than Sundays : Realising the potential of local church communities to support vulnerable children and families.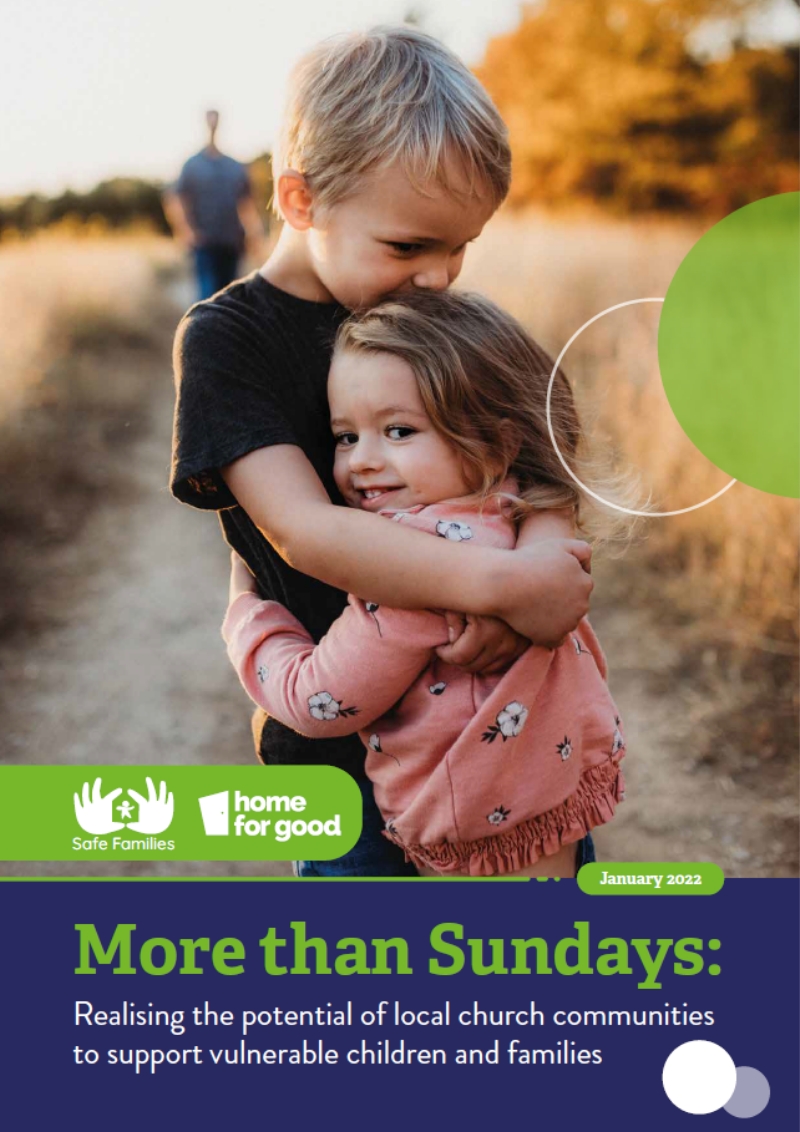 The report outlines four key attributes of the Church across the UK that enable it to play a unique role in the children's social care system. With 50,000 churches across the UK, attended by 3 million people, and with 103,000 children in care across the UK, the Church is well placed to make a significant contribution in meeting this need. Along with its scale and locality, and its ability to provide organic networks of support for families and children, the UK church's diversity and its motivation to engage in social justice makes it a unique network of resource and capacity to support vulnerable children and families.
Kat Osborn, CEO of Safe Families said:

It is a delight to partner with Home for Good to publish today's report. We are passionate about the power of the Church across the UK to make a significant contribution to this huge area of need; the children's social care system. Not only this, but both Safe Families and Home for Good have been working with the Church for a number of years and have seen it step up already in so many ways. There is so much more that can be achieved as we work together.
This report forms part of Safe Families' and Home for Good's engagement with the Review of Children's Social Care in England, which is in its final stage of developing recommendations for Government. The Review is due to publish its final report and accompanying recommendations in Spring 2022.
Tania Bright, CEO of Home for Good commented:
We recognise that the Review in England is a significant opportunity to reconsider the way we support children and families across the nation. The Review has been clear that it recognises that communities have a greater role to play in enabling children and families to thrive and our report today sets out why we think the Church is well-placed to step into this space. The Church has been at the forefront of caring for children, young people and families who are struggling and we want to build on the good work already happening to enable every child and family to thrive.
Click here to watch our 5-minute summary video with Tania Bright and Kat Osborn.
For further information, please contact Natalie Mills (natalie.mill[email protected]) or Matt Jones ([email protected]).
Published: Wednesday 26 January 2022

You might also be interested in
I would like to find out what is
going on in my area
Join our mailing list for the latest Home for Good news and ways to get involved.
Together we can find a home for every child who needs one.
£25 per month could help us create and collate inspiring articles and blogs that encourage and inform the families and communities who care for vulnerable children