Homemade for Good: 980 decorations
How our Berkshire Project Worker is raising awareness through Christmas decorations.
Home for Good is often blown away by the dedication and creativity of our network of supporters, and since the launch of Homemade for Good, we have heard of many brilliant individuals and families making and baking to raise funds and awareness. Our Project Worker for Berkshire, Bethany Hare, is one of those individuals.
With a background in social work, Bethany is all too aware of the pressing need for more families to step forward to care for vulnerable children through fostering and adoption, and now in her role at Home for Good working closely with West Berkshire local authority, she works to inspire people to consider fostering. Wanting to raise awareness across her community, Bethany hit upon the idea of making and selling Christmas decorations – one for each of the children and young people in care in Berkshire.
When she began the project she was working towards making 910 decorations, but just a few days in the latest figures were released and the number had increased to 980. "I couldn't believe it was such a big jump," she explains. "I knew there was a chance that the number would go up, but it is such a huge increase over just one year – it really hit home to me again how important it was to keep going and do what I can."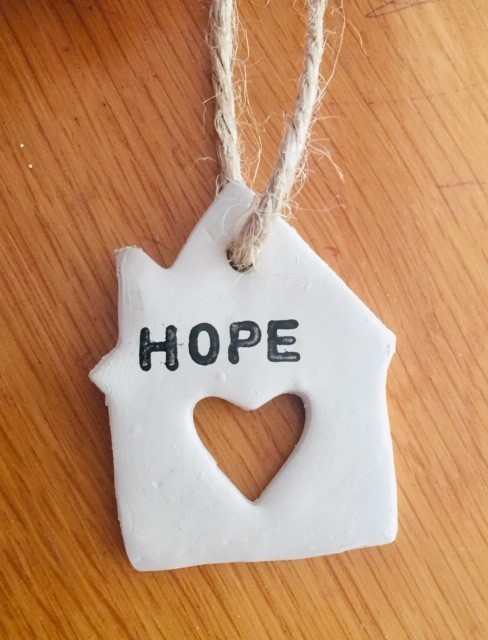 Making each of the 980 decorations by hand out of air-dry clay, and then stringing and packaging them once they have fully hardened, is a huge task. Bethany is grateful for all the help that family and friends have offered to help finish them and get them all sold.
"I've actually found it really emotional, knowing that each one I make represents a vulnerable child who has experienced trauma. When I saw the first hundred it was really overwhelming."
Bethany is selling each decoration for a suggested donation of £2.50 to raise money for Home for Good, but is also asking people to consider buying three together for £6 – raising awareness that many children and young people in care are part of a sibling group who need to stay together.
"When a child comes into care they often lose so much of what is familiar to them, it is imperative that wherever possible and beneficial for the children, siblings can stay together. There is a real need in our area – and across the UK – for foster and adoptive families who are able to care for groups of three or more siblings."
If you are interested in buying some of Bethany's decorations for your Christmas tree, contact her at [email protected]
Use the links below to find out more about Home for Good and our work.
You might also be interested in
I would like to find out what is
going on in my area
Join our mailing list for the latest Home for Good news and ways to get involved.
Together we can find a home for every child who needs one.
£25 per month could help us create and collate inspiring articles and blogs that encourage and inform the families and communities who care for vulnerable children