The Dutchie Pot and Injera flat bread: two stories of hospitality
Simon shares of two encounters that taught him the true meaning of hospitality

How we host others often tells us something about our priorities and values. Before moving into our current neighbourhood, our provision of hospitality focused around providing an evening of entertainment for a person or group of people that held similar interests to us. We would make it clear who was invited and if the guests wanted to bring an extra person, they would check that this was OK first. There was often a specific start time and an unspoken understanding of when our guests should leave.
It was not until we moved into a neighbourhood that was made up of people from different ethnicities, cultures and faiths, that our understanding of hospitality began to radically change.
The Dutchie Pot
Over the years, we have enjoyed hospitality from many different families who have arrived in the UK from different parts the world. This has taken us on a journey of learning different cultural practices, which have been both fun and problematic.
We had been living in the neighbourhood for less than a month and I was doing my rounds, visiting local families and letting them know about the holiday activities happening in the community. I was getting used to being invited into the houses of many of the families, so when I approached this Caribbean household, it did not come as a surprise to be asked to come in and take a seat in the kitchen.
On the hob was a pot full of curry mutton and next to it was a pot of rice. The mum asked me if I had eaten, and did I want any food? I said that I had not eaten but politely refused, as I would be having my dinner later. 'You need food' she said and filled up a plate with the contents of the pots. She warmed it up in the microwave and handed it to me so that I had no option but to gratefully receive this this meal of curry mutton and rice.
As I sat talking and eating in the kitchen, many other people came through that space, sat down and enjoyed the delicious food. I spent over an hour in that kitchen meeting with new people from the neighbourhood. As we gathered together around those pots of mutton and rice, I heard many stories and enjoyed lots of rich conversations.
This local mum's hospitality had rebalanced the power dynamic in our relationship. I had initially arrived at her house to offer support to the family and her children. When I left, not only was I well fed, but also felt welcomed and accepted into this new neighbourhood. When she invited me to the meal table, she had opened a door that enabled me to be trusted and share in the life of the community.
Injera Flat Bread
On another occasion, we were invited to share a meal with an African family in our neighbourhood. The mum in the family brought out small dishes filled with food and then handed us a plate holding Injera Ethiopian flat bread. She instructed us to scoop the food from the bowls onto the flat bread and eat it with our hands.
After I had devoured all the food from my plate she quickly left and went to the kitchen. Feeling nicely full, I was slightly concerned when she came back with more Injera Flat bread and more dishes. In order to be polite and not offend, my wife and I began tucking into the second course and just about managed to finish it.
It was not until the third course of food was brought to us that her son leaned over and said, "Mum will keep filling your plates if you keep clearing them." That night we learnt that we were inadvertently being rude by eating everything on our plates. My wife and I had been taught clearing one's plate is polite, but in this woman's culture it is respectful to leave food as a sign that one is well fed and satisfied.
Over the years we've learned that for many children and young people who have been in care, perhaps particularly the ones that come from different ethnicities and cultures, there can be a huge amount of anxiety the first time they arrive in our homes. It is natural that we will aim to make this transition feel as safe and welcoming as we can, and before they arrive, we try to learn as much as possible about their background, culture and routines. However, when they enter our homes, they are still very much the guest and are entering our space with its well-established rules, values and practices.
The hospitality we've experienced in our neighbourhood has shaped how we welcome others, taking us on an important journey towards a home where all our children feel seen and heard – where they are more than just guests, where they fully belong. Christine Pohl talks more in depth about this, saying, 'An important transformation occurs when people without power or status have the opportunity to be more than guests, when they, too, can be hosts. This becomes a time when their contributions can be recognised and when they are not defined first by their need.'[1]
We have now been fostering for over 20 years and the different cultures from our local neighbourhood, as well as the many children that have lived with us, have brought us a richer and deeper understanding of hospitality. Rather than identifying ourselves as the hosts, we have embraced the hospitality of the other. We have had to deconstruct a lot of our values and have initiated more variety around how we do meals and what family time looks like. I am never sure how many people will be in the house when I enter, but I have a sense of joy watching all our children feel free and empowered to bring their friends into our home and become 'good hosts' themselves. If other children are hungry, they raid the fridge for leftovers or get a pot of food cooking on the stove. They bring other children in who need plasters, the toilet or even want to use the wi-fi. As we have made room for our children to be hosts in our home, we have learnt not to see them through the lens of their need but recognise that they too have much to give and to offer.
[1] C. D. Pohl, Making Room: Recovering Hospitality as a Christian Tradition. (Grand Rapids, Eerdmans, 1999) 121
Related pages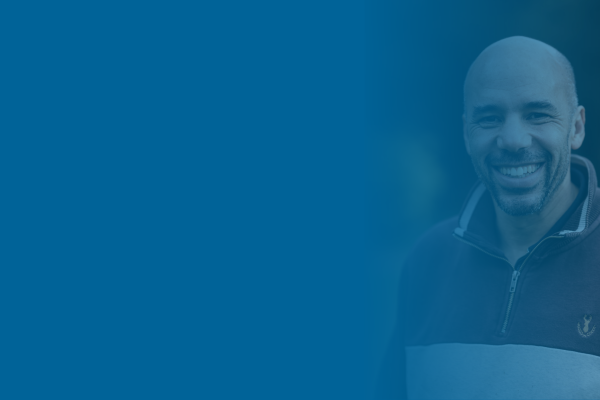 Introducing Simon Jay
Simon recently joined the Home for Good team as UKME Theologian and Advisor. Here he shares a little of his story and his hope as we continue to work to tackle racial disparity within the care system.
Read more
You might also be interested in
I would like to find out what is
going on in my area
Join our mailing list for the latest Home for Good news and ways to get involved.
Together we can find a home for every child who needs one.
£25 per month could help us create and collate inspiring articles and blogs that encourage and inform the families and communities who care for vulnerable children